Lake County, Tennessee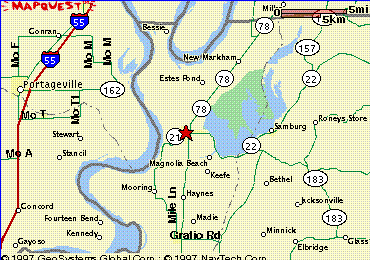 John Franklin Cloud moved to Lake County around 1900. He worked on a farm in the Kentucky Bend of the Mississippi River near the small community of Bessie. He left Lake County for a short time around 1914 to live in Lilbourn, New Madrid County, Missouri which was just across the river. However, he later returned to Lake County settling near Bessie again and finally settling in Tiptonville, near Reelfoot Lake. Most of his children moved away in later years, but William and his family remained in Tiptonville living next door to him. After Emma died in 1952 John F. lived a short time, at the end of his life, in St. Louis , Missouri with his daughter Maude Lou and her family. He died in St. Louis in 1953. He is buried in the Tiptonville City Cemetery along with Emma.
About the time John F. moved to Tiptonville, the trees in Reelfoot Lake caught on fire and burned for 3 days and nights. With the smell of smoke from wood burning and a glow in the sky at night, people up in the area of Union City, Troy, and Hornbeak, hitched their wagons up to come down and see what was on fire and found a burning lake. The fire was caused by a lightning storm and evidence of this event exists today in Burnt Woods across from Brewer Bar.
A Tiptonville native, Lexie Leonard, writes in his book "Reelfoot Lake Treasures", "Back in the days when the roads were small, just wide enough for buggies and wagons, and without any gravel, there would be people that came throughout the county peddling their goods from house to house. They would carry 2 or 3 suitcases filled with their wares to sell to the people. It was a store on foot, and these peddlers would stop at every house. The goods they sold were handkerchiefs, headscarves, beads, towels, and other items. People would get a big thrill just looking at the merchandise, even though they seldom ever had any money to buy anything. The peddlers would eat and stay all night if you invited them and most people did as they enjoyed having their company. When the peddlers left they would thank you and sometimes present the housewife with a handkerchief or some little token of appreciation and hit the trail to another community".
In the early 1900's the courts declared Reelfoot Lake to be privately owned by Judge Harris. He demanded taxes of all the people who had been hunting and fishing the lake for a living. Fighting this claim in the courts proved unsuccessful so a group of locals formed a vigilante group known as the "Night Riders" to get the lake back by intimidation. The Night Riders soon thought of themselves as the law and exacted justice however they saw fit, whether the lake was an issue or not. They terrorized the county until the National Guard came in and restored order. The courts, after several trials, dismissed the case against the Night Riders and the Supreme Court declared Reelfoot Lake as a navigable stream making it free to everyone.
Go to: