Joseph Cloud, III born 1746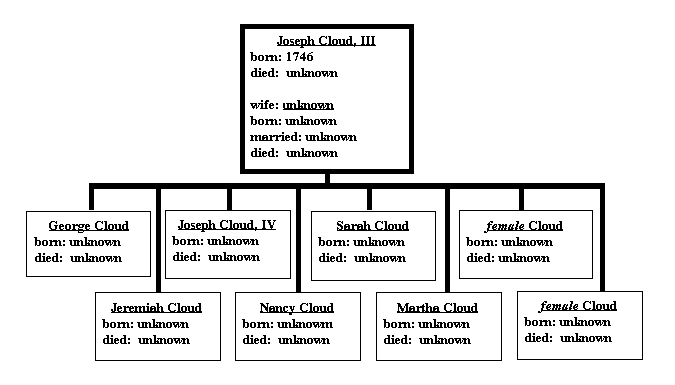 Joseph Cloud, III appears in the Surrey Co. Tax Lists of 1771, 1772, and 1786. He was a Captain in the North Carolina troops during the Revolutionary War according to several pension applications (ex. Lt. John Martin of NC, who served under Captain Cloud). He was appointed by the court as County Surveyor when Stokes was created in 1789. He was a Militia Captain in Stokes during 1791 - 1804. One district was even named Cloud's District, later Peter's Creek. He lived in the Northern part of Peter's Creek Township, which borders Patrick Co., VA and was very close to William Cloud of Patrick Co. who was probably his brother.
The 1790 census of Stokes shows a Joseph Cloud household with 2 males over 16 and 2 males under 16. This was probably Joseph III and his sons George, Jeremiah, and Joseph IV. Jeremiah married Elizabeth Martin, daughter of the John Martin whom Joseph III had served with in the Revolutionary War. Jeremiah died in the War of 1812 in Norfolk VA. Joseph IV got involved in a scandal over an illegimate child in 1820, was summoned to court, and found to have been the father of the child (The NC archives contain the bastardy bonds for the case). This must have been very embarassing for Joseph III who was, at that time, the Justice of the Peace and a man of considerable prominence in the county. He was even one of the JP's who had to serve the summons on his son.
The last records of them in Stokes was in the P&Q's for 1822.
Go to: