Benjamin Franklin Cloud born 1828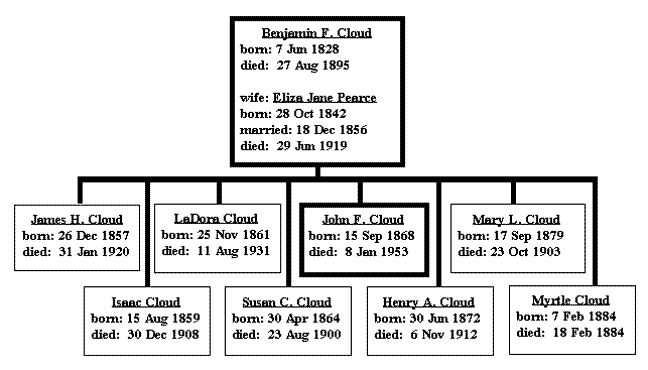 Benjamin Franklin Cloud was born in 1828 in Hamilton County, Tennessee. He married Eliza Jane Pearce, who was born in Polk County, Tennessee in 1856, and they had ten children. Only eight of the children, two are believed to have died at birth or shortly afterwards, are known and they were:
James H. Cloud, born 26 Dec 1857.
Isaac Cloud, born 15 Aug 1859.
LaDora Cloud, born 25 Nov 1861. One line shown here is descended from LaDora.
Susan C. Cloud, born 30 Apr 1864. She married Elvis Chamness and had, at least, two children.
John Franklin Cloud, born 15 Sep 1868. One line shown here is descended from John F.
Henry A. Cloud, born 30 Jun 1872.
Mary L. Cloud, born 17 Sep 1879. She married Joseph C. Early.
Myrtle Cloud, born 7 Feb 1884. She died 11 days later.
The first four children were born in Tennessee and the last four were born in Illinois. They moved from Tennessee to Illinois sometime around 1867. This was shortly after the end of the Civil War. After Benjamin died in 1895 in Henderson County, Illinois, his wife, Eliza Jane, moved to Marion Illinois in Williamson County to care for her grandchildren. We are descended from John Franklin, who was born in Biggsville, Henderson County, Illinois in 1868. His sister LaDora Cloud was born in Tennessee in 1861. Eliza Jane died in 1919 and her obituary, as printed in the local paper, reads:
"Eliza Jane, daughter of Hamilton and Caroline Pearce, was born in Polk County, Tennessee, October 23, 1842. Died June 29, 1919, age 76 years, 8 months and 6 days. She was married to Benjamin Franklin Cloud in November 1856 (Family Bible says 18 Dec 1856). To this union 10 children were born. Three died in infancy. Of the seven who grew to manhood and womanhood, three survive: James H. Cloud of Marion, Ill., Mrs. Newton Kern, Stronghurst, Ill., and John F. Cloud of Tiptonville, Tennessee. Mrs. Elvis Chamness, Mrs. Joseph C. Early, Isaac N. Cloud and Henry A. Cloud preceded their mother in death. The husband died in 1895.
Sister Cloud professed faith in Christ in 1859 and united with the Greasy Creek Missionary Baptist church and lived a consistent, faithful Christian life for 60 years. In 1898 her daughter, Mrs. Chamness' health failed and she came to their home to assist in caring for her, and the two small children. The daughter died in 1900, leaving two children, one ten years of age and one five. From that time on she was the only mother those children knew. Her interests was rapped up for their welfare. Some two years ago her health failed. One year ago Troy answered the call of his country and left for overseas. He and his interests was much on her mind until the end came to her. The past few months she had hoped to live until his return home, but her strength was not sufficient and she yielded to the wishes of the Master. Although an intense sufferer for many months her faith in Christ never diminished, often speaking words of encouragement to those who visited her and admonishing them to look to a Higher Power for salvation. She often said to those around her that she was ready to answer the Master's call and when it was His will to relieve her from her suffering.
We shall greatly miss Grandma and feel lonely but would not call her back to this world of sorrow if it was possible to do so. We are looking expectantly forward to the time when we shall see Grandma in the home where sorrow, death and parting are unknown.
Funeral services were conducted by Charlie Taylor, he being her personal choice, at Pigeon Creek Baptist church at 4 p.m., Monday June 30, 1919."
Go to: