Peter Kendall born 1778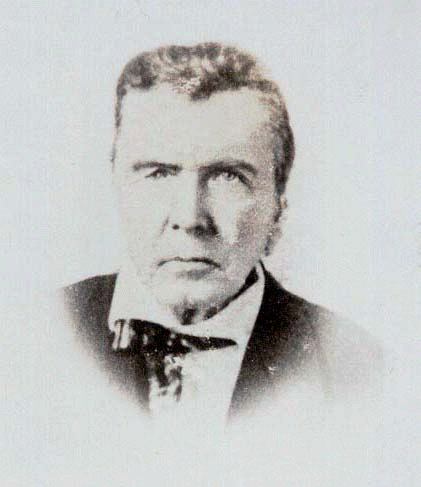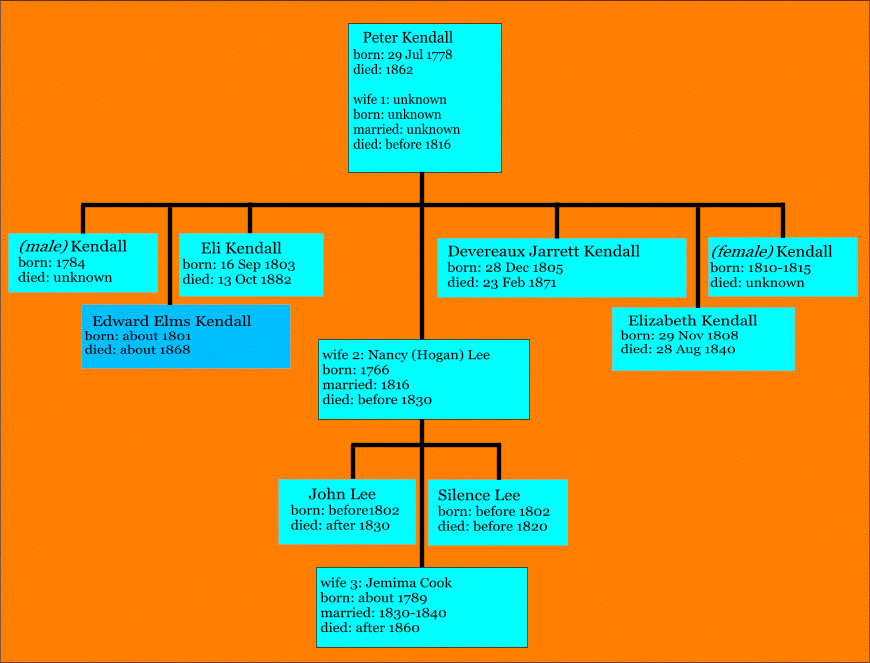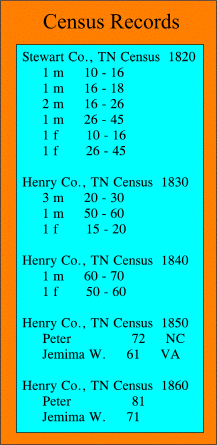 Peter Kendall was born in Albemarle, Randolph Co., North Carolina on 29 Jul 1778. His first wife is unknown, her date of birth is unknown, but she probably died before 1816 when Peter married Nancy (Hogan) Lee. According to the census records they had at least six children who were:
(male) Kendall - He was born 1794-1800.
Edward Elms Kendall - He was born about 1801 and died about 1868.
Eli Kendall - He was born on 16 Aug 1803 in North Carolina. He married Elizabeth McNutt on 16 Aug 1831. Eli died on 14 Oct 1882 in Tennessee.
Devereaux Jarrett Kendall - He was born 28 Dec 1805 in Stewart Co., Tennessee. He married Sarah Ann Ryle on 12 Nov 1829. From Norman Festus Kendall's book, "Devereaux Kendall, enlisted 1861, at Paris TN. 2nd Lt. and Adjt. 2nd Co. G, 5th Infantry". He died 23 Feb 1871.
Elizabeth Kendall - She was born 29 Nov 1808 in Stewart Co., Tennessee. She married Richard Manly around 1825 in Henry Co., TN. She died 28 Aug 1840.
(female) Kendall - She was born 1810-1815.
He married Nancy Hogan, who was born in 1766 in Anson Co., North Carolina. She had been previously married to Richard Lee. She had two children with Richard Lee.
Her children with Richard Lee were:
John Lee - He was born by 1802 and died in xx.
Silence Lee - She was born by 1802 and died in xx.
Nancy, Peter's wife, may have died before 1830 as she doesn't show up on that census and a third wife, Jemima W. Cook, who was about 10-11 years younger than Peter, shows up in the 1840 - 1860 census records. Peter died in 1868, probably in Henry Co., Tennessee. A quote from Norman Festus Kendall's book, "History and Genealogy-Kendalls, Snodgrasses, Cunninghams" states" "Courts P. Kendall ... says "My grandfather, Peter Kendall, was born in Albemarle then in Randolph Co., NC in 1778; left home in TN exodus in 1794, settled at Paris, Henry Co., TN. Hatter by trade; first surveyor of note in West TN. Had two sons, Eli, born 1803, Devereaux Jarrett, born 1805. Peter Kendall appears as a State Senator 1813 - 1821. He was a forceful campaigner and led an active and colorful career and was known throughout the state as "Old Pewter Foot Kendall". I do not identify my great grandfather". John Kendall, Peter's brother, followed him into TN and raised a sizable family. Next came Samuel Kendall, a cousin, batchelor and a star for noise, first Justice of the Peace in Henry, Co., TN, and later a judge." He was a signer of the State of Tennessee Constitution of 1835.
The Biographical Directory of Tennessee General Assembly states, "Peter Kendall (1778-?) - House, 12th, 13th, 14th, and 17th General Assemblies, 1817-23, 1827-29; representing Stewart and Humphreys Counties in 12th and 13th, Stewart alone in 14th, Henry and Weakley Counties in 17th. Born in Montgomery Co., NC, July 29, 1778; names of parents and extent of schooling not determined. Married to Jemima W., a native of VA; family name of Jemima and names of children, if any, not found. Moved to TN in 1804 to engage in farming in Stewart County. Captain of militia company, Stewart Co., moved to Henry Co. at undetermined date, but in time to represent that county in 1827; delegate from Henry Co. to state's Constitutional Convention of 1834; chosen by county court to survey certain tract of land and, in 1824, to help clear road from Forks of Sandy to intersection of Gray's Ferry. No additional information found."
Peter made a Will on 13 Aug 1860 and died in 1862. He is buried in the Kendall Cemetery near Paris, Henry Co., Tennessee.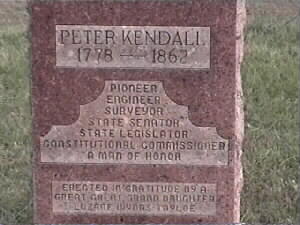 Go To