Our Cloud Family Journey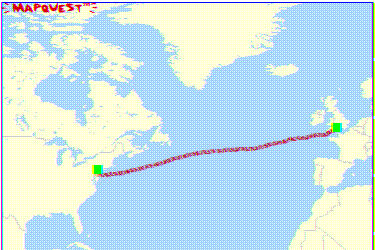 Clouds migrate from England to America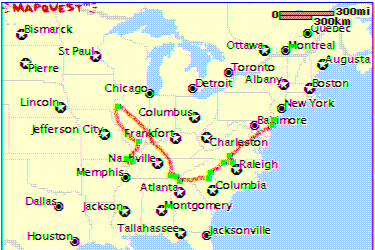 Cloud movements from Pennsylvania to Tennessee
The maps show the probable migration of the Cloud family from the birth of Robert Cloud in Devizes, England to the deaths of LaDora Cloud at Stronghurst, Illinois and John Franklin Cloud at Tiptonville, Tennessee. The maps are only an educated guess of their actual movements based on the evidence available at this time. The first map shows their trip from England to the American colonies in 1681/82. The second map shows the families estimated migration route from Concord Township, Pennsylvania to Tiptonville, Tennessee.
The Clouds seem to be of English descent and their early history in this country is tied closely to the doctrines and teachings of the Society of Friends (Quakers) and to the various migrations of this religious sect. During Cromwell's Commonwealth, in England, some followers of the Puritan sects joined with a preacher named George Fox and began calling themselves "Children of the Light", "Friends in the Truth", or simply "Friends". This was based upon their belief that every person had the ability to receive the "Light", which was Divine Illumination, Friends believed that all men were equal under God and expressed their belief in that equality through "plain" living. They ignored the class-ruled forms of address, and used the familiar "thee" and "thy" for all people. They did not doff their hat's to social superiors, as was the custom of the time, and would not serve in the army, since warfare implied dominance rather than equality. Some of these friendly practices brought them into conflict with the law, and it was one of these times that George Fox told a Judge that he should quake in the sight of the Lord. "You are the Quaker, not I", the Judge replied angrily, unwittingly giving Friends the name by which they are best known. The Quaker's form of worship was also different from established churches. Quakers sat silently in their meeting houses, the men on one side, the women on the other, contemplating their thoughts. When a person was moved to speak, that person would rise and tell the others what was on his or her mind. They had no need for someone to lead an organized service. When two designated Elders arose, a man and a woman, that signalled the end of the service.
Historically, the Quakers came from England, where the Society was persecuted, to America. In 1683, William Penn wrote in glowing terms of the new world: "The Air is sweet and clear, the Heavens serene, like the South-parts of France, rarely Overcast...The Waters are generally good....Of Fowl of the Land, there is Turkey (Forty and Fifty Pound weight) which is very great; Phesants, Heath-Birds, Pidgeons and Partridges in abundance."
The Quakers settled around Philadelphia and gradually moved southward to Virginia and the Carolinas until the outbreak of the American Revolution, when this movement abruptly stopped. Not many Quakers fought in the Revolution because of their church doctrine, but there is no doubt where their sympathies were, as most suffered persecution while in England. After the Revolution the Northwest Territory opened in the late 1700's and the Quakers were among the first pioneers. No doubt the slavery issue and the Civil War provided added impetus to this migration. Some continued westward after a few years while others went directly to Indiana, Illinois and Iowa from Virginia and the Carolinas. Parts of our Cloud family were involved in these general migrations, even though it's not clear which ones remained in the Quaker church after William. The Quakers migrated to new areas in colonies of sufficient size to support a church, school and as a means of protection from the wilds. Once settlements were established, Quakers came as individual families or in small groups. Since marriage outside the church was condemned, most Quakers married within their community. Thus it is not unusual to find that many children of one family married children of another family, nor is it unusual to find marriages between cousins, although second cousin marriages were condemned. Joseph Cloud emigrated from England to America in 1681 on the sailing ship "Bristol Factor". He grew up and spent most of his married life in Chester County, Pennsylvania. In the middle 1700's his son, Joseph Jr., began the migration of our Cloud family by moving to Virginia and getting land there. The migrations continued in later years as his descendants moved to North and South Carolina, Georgia, Tennessee, Illinois, and Missouri. Although there is no known written record of these journeys, their movements can be traced by using the census and other records such as birth, death, and burial. Also, the families locations in later years add credence to these movements. The stops along our Cloud family migration route, along with sights they may have seen, are presented in chronological order as follows:
Spartanburg County, South Carolina
Rutherford County, North Carolina
Go to: