Chester County, Pennsylvania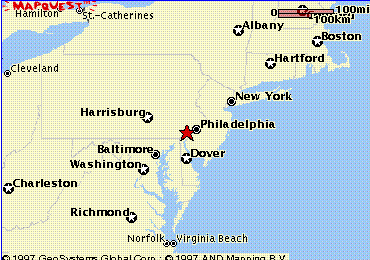 Joseph, son of William left Calne, England for America in 1681 with a load of goods for his father, who also left England for America the following year with four of his other sons. William, at 61 years of age, came to America to settle on land purchased in England from William Penn.
He does not appear to have settled upon his New Castle land as he lived and died in Concord, Pennsylvania Province. Concord was settled in 1660 and incorporated as a 2nd class Township in June, 1683. The name probably had its origin in the harmonious feelings of some of the first settlers. In 1681, William Penn, a prominent British Quaker, obtained from Charles II a grant of the territory known as the Province of Pennsylvania. The first permanent British colony was established at present-day Philadelphia in 1682. Penn planned to make his new colony the "Holy Experiment". He immediately drew up "The Great Law of Pennsylvania", under which male suffrage extended to those who professed a belief in God and met moderate property requirements. Imprisonment for debt was reduced to a minimum, and the death penalty was implemented only in cases of treason and murder. No man was deprived of life, liberty, or estate except by trial before a jury of 12. Children were taught to read, to write, and to learn a skill or trade. Penn's seal read, "Mercy, Justice, Truth, Peace, Love, Plenty,"
Penn signed a treaty of friendship with the Indians of Pennsylvania, setting a high standard in relations. His successors extended this friendship to an alliance with the Iroquois, and as a result the settlers enjoyed 70 years of peaceful relations with the Indians. When the colonies to the north were ravaged by French and Indian raids from Canada, Pennsylvania, shielded by the Iroquois, was spared. By 1750, however, this era of friendship was nearing an end, as land purchases for white settlements encroached on Indian territory.
In 1714, blacksmith Barns built a house on "Ye Great Road to Nottingham", then a major highway between Philadelphia and Maryland. The spacious brick building was well suited to its use as a tavern, with a private side for the family and a barroom and sleeping quarters for travelers. From 1722 until his death in 1731, Barns operated the tavern for "ye accommodation of Man and Horse". Walking around the building, you can see the Flemish blond brickwork with black headers and the "diaper" pattern in the gable at the end of the house. The interior is well known for its fine woodwork and paneling. Fortunately, much of the original hardware remains, probably wrought by blacksmith Barns.
Having fallen heir to his fathers 500 acre "plantation" along the Brandywine, John Chads was already a man of some importance when he had a house built on the banks of the creek, probably by John Wyeth, Jr. The houses style and appointments suggest moderate wealth; its simplicity reflects Chads Quaker heritage. In 1729, about four years after the house was completed, Chads took Elizabeth Richardson as his bride, and this became their home. By 1736, Chads had successfully petitioned for a license to operate a tavern and, about the same time, began a ferrying service. John died in 1760, leaving his widow the use of the house and forty acres of land. Elizabeth stood fast at the time of the Battle of Brandywine, September 11, 1777, hiding "her silver spoons dailey in her pocket". The widow Chads reportedly observed Hessian and Continental troop movements from the attic window. Today, the houses pleasing proportions and continuous cornice, and its original oak floors, paneling, and woodwork make it a fine example of early 18th century Pennsylvania architecture. Its prime location on the hillside dictated its being built as a bank house.
This is the springhouse to the house that Chads had built by John Wyeth, Jr. It is believed that this banked building, with sleeping loft, was built before the banked house. Perhaps it was where John and the stone masons lived before the house was finished. One corner of the springhouse is believed to have been damaged by artillery fire during the Battle of Brandywine, September 11, 1777.
Go to: