Amos Gray Kendall born 1840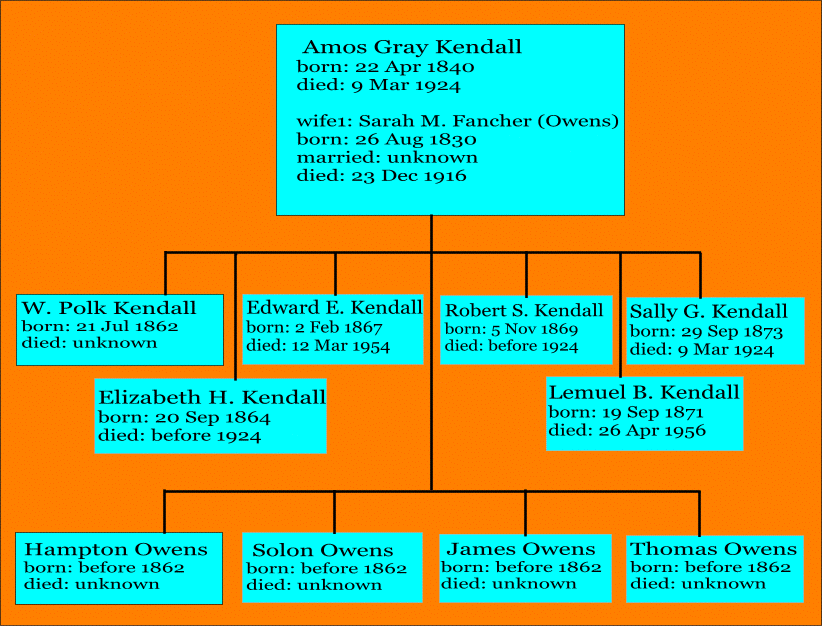 Amos Gray was born on 22 Apr 1840 in Henry Co., Tennessee. He married his first wife, Sarah M. (Amanda) Fancher, in Carroll Co., Arkansas. Sarah was born 26 Aug 1830 and died 23 Dec 1916. They had at least six children and they were:
W. Polk Kendall - He was born 21 Jul 1862. He died after 9 Mar 1924. No other statistics are known.
Elizabeth Henrietta Kendall - She was born 20 Sep 1864. She married John Villines, a Methodist preacher. She died before 1924.
Edward E. Kendall - He was born 2 Feb 1867. He married a first wife, Daisy Lee Howell, and a second wife, Mollie Ray. Their marriage dates are unknown. He died 12 Mar 1954.
Robert S. Kendall - He was born 5 Nov 1869. He died before 1924.
Lemuel Bascom Kendall - He was born 19 Sep 1871. He married Julia Price and their marriage date is unknown. He died 26 Apr 1956.
Sally Gray Kendall - She was born 29 Sep 1873. She married Henry Ray and their marriage date is unknown. She died after 9 Mar 1924.
Sarah had previously been married to ? Owens. She was a few years older than Amos. She had 4 children with
? Owens:
Hampton Owens
Solon Owens
James Owens
Thomas Owens
Amos Gray was CSA and fought at the battle of Shiloh, TN and was captured. On the way north down the Tennessee River on a prison barge, he and a buddy jumped ship when they came to Obion Co., Tennessee where Amo's father had a farm. They made it to shore, but Amos got shot while running for the trees. His buddy went on to the farm and got help, and Amos lived to be an old man, a Minister, but he had a limp for the rest of his life. This information is from the family Bible of Amos Kendall.
Obituary of Amos Kendall, copied from the Green Forest Tribune:
"Reverend Amos G. Kendall, after a short illness of bronchial pneumonia, died at his home in Berryville, Arkansas Sunday March 9th, 1924, aged 82 years 10 months, and 17 days. He was a minister of the Cumberland (Presbyterian) Church and was very active in his ministerial work from his early childhood until he became too feeble to carry on his work. He carried the gospel to all parts of Northwest Arkansas, and few there be of the older inhabitants of Washington, Benton, Carroll, Madison, Boone, and Newton Counties but have heard his preaching and have observed his consecrated life. Besides his wife, he leaves three sons, Lem Kendall of Berryville, Arkansas; Ed Kendall of Madison County, Arkansas; and W. P. Kendall of Muskogee, Oklahoma; and one daughter, Mrs Henry Ray of Marble, Arkansas. His remains were laid to rest at Alabam, Madison Co., Arkansas." The wife of Amos Kendall was a widow named Owens at the time he married her. She had four small children by that Owens marriage. She was several years older than Amos. Julia Kendall, widow of Lem, said that Amos left home when he was only 14 years old, and worked on a steamboat until 18 or 19. He came to Carroll Co. with Edward and his wife in a covered wagon.
Amos died 9 Mar 1924 in Berryville, Carroll Co., Arkansas and is buried in Alabam Cemetery, Madison Co., Arkansas with his wife, Sarah Fancher.
Go To