Joseph Cloud born 1651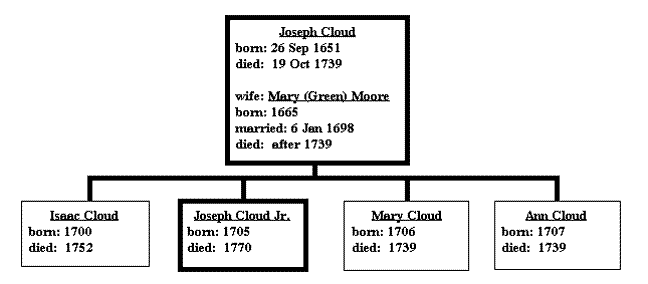 Joseph Cloud was born in Calne, Wiltshire County, England in 1651. He married Mary (Green) Moore in 1698. He was Mary Green's second husband. Her first husband was Richard Moore whom she married about 1685 and had two children named Mary and John. Joseph Cloud and Mary (Green) Moore had, at least, four children who were:
Isaac Cloud, born in 1700.
Joseph Cloud, Jr., born in 1705. He married wife 1, Hannah Baldwin, 16 April 1732 and wife 2, Elizabeth Osborn in 1740. We are descended from Joseph Jr. and Elizabeth.
Mary Cloud, born in 1706. She married a Mr. Kerlin.
Ann Cloud, born in 1707. She married a Mr. Vernon.
There may have been a fifth child named Simon.
Joseph left England, on the sailing ship "Bristol Factor", arriving in America December 15, 1681 as part of the first shiploads of Penn's Quaker settlers. This was the year before his father and brothers emigrated, He came as a servant to John Bezar, who later granted the rights to his headland to Joseph in 1702. He evidently liked to own land and acquired a great deal of it by purchase and by marriage to the widow Mary Moore. He eventually acquired 400 acres next to his father's Concord Township property.
Apparently only one wagon was in use in 1716, for the accounts [of James Logan] refer to it as "the wagon" and to payments for carriage to "Jno. Millar of Conestogoe." Other notations in 1716 and 1717 refer to goods brought down by pack horse, seven to nine horse-loads at a time. Then on May 27, 1717, a sum was paid to James Hendricks of Conestoga for goods carried "pr his Waggon" and another sum for goods which came "pr Millars Waggon," so a second wagon had been put to work. In July a third wagon, belonging to Joseph Cloud, brought in skins.
SOURCE: Shumway, George, Edward Durell, and Howard C. Frey. Conestoga Wagon 1750-1850: Freight Carrier for 100 Years of America's Westward Expansion. Second Edition. York: George Shumway and Early American Industries, Inc., 1966.
Tom Williams, Adams County, PA writes, "Joseph CLOUD (1651-1739) was the brother of my 7th great grandfather, Jeremiah CLOUD, Sr. My 5th great grandfather William KEECH (c.1689- aft.1759) drove the wagon for Joseph CLOUD (16