Robert Cloud born about 1528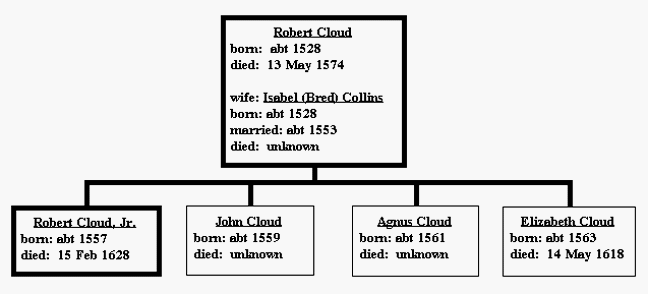 Robert Cloud was born around 1528 in Devizes, Wiltshire County, England. His wife was named Isabel Collins. They married around 1553 in Devizes, England and had, at least, the following four children:
Robert Cloud, Jr., born around 1557. He was married to Elizabeth xx around 1580 and a second time to Joan/Jane Norys around 1597. We are descended from Robert, Jr. and his second wife, Joan/Jane Norys.
John Cloud, born around 1559. He was married to Joan Farmer on 14 May 1597.
Agnus Cloud, born around 1561. She was married to Anthony Potter on 2 Jan 1594.
Elizabeth Cloud, born around 1563. She was unmarried.
Robert's date of death was 13 May 1574. Isabel's date of death is unknown. They were probably buried in or near Devizes.
Go to: